Espoo, Finland, 25 May, 2022 — Sumitomo SHI FW (SFW) has been awarded a contract to deliver a new 77 MWt bubbling fluidized bed (BFB) boiler plant to Jämtkraft AB in Sweden. The new boiler will be part of the Lugnvik plant in Östersund and will use biomass as fuel ensuring secure supply of heat and power to Jämtkraft customers. It will also contribute to an increased production of renewable electricity as one third of the energy production of the plant will become electricity and two thirds district heating.
Image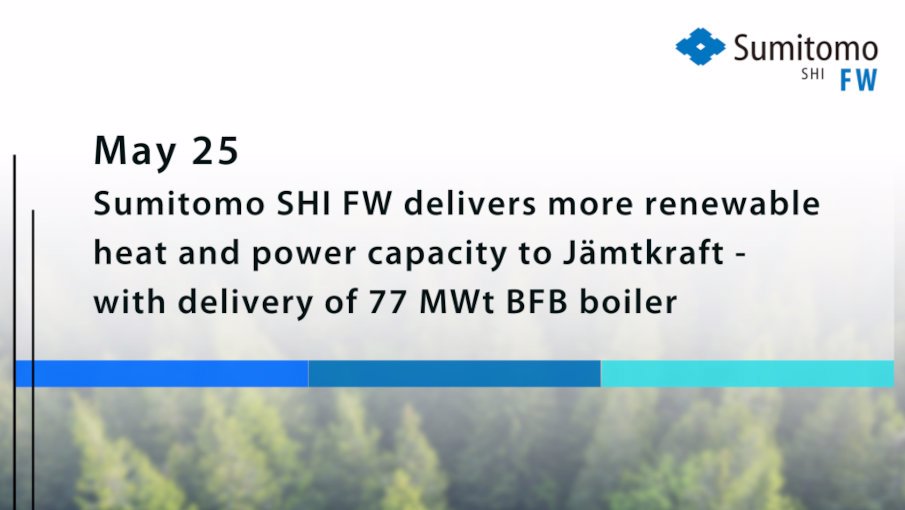 The contract was signed on May 6th, which is also the Notice to Proceed (NTP) date. Jämtkraft is a long-standing SFW customer with two circulating fluidized bed (CFB) boilers delivered in 1985 and 2002.
The large-scale design and erect (D&E) delivery will include the boiler with auxiliary equipment, flue gas condensing plant and flue gas cleaning equipment up to stack outlet, Electrification, Instrumentational and Control system (DCS) as well as the boiler building with turbine building as an option.
This is a major investment which will secure supply of renewable heat and power to our customers for many years to come and we look forward to once again work with Sumitomo SHI FW in execution of this project.
Ulf Lindqvist
Head of Jämtkraft Heat division
Jämtkraft has been our customer since 1980s, and we are extremely pleased to continue our collaboration. Growth in biomass has increased significantly in the last years and our plant design is able to use biomass fuels effectively. Our goal as a business is to help our customers on their journey towards sustainable solutions and this project will help Jämtkraft do just that.
Jaakko Riiali
Senior Vice President, Commercial Operations, SFW
About Sumitomo SHI FW
Sumitomo SHI FW (SFW) has been providing innovative energy solutions to our customers for over 100 years. SFW's mission is to enable the energy transition to a carbon-free future through decarbonization, decentralization and digitalization.
SFW's solutions expand from the world-leading circulating fluidized bed (CFB) technology to long-duration energy storage (LDES), waste-to-energy (WTE), waste-to-value (WTV), carbon capture (CCUS) and services for the global power and industrial markets. Through co-creation, partnerships, and ecosystem collaboration SFW aims to accelerate the speed of decarbonization and create more value for its customers.
SFW has global energy experts with more than 1800 talented staff, across multiple locations, covering the globe in North America, Europe, and Asia. 
For more information, please visit: https://www.shi-fw.com/
About Jämtkraft
Jämtkraft has produced renewable energy since 1889 and is a municipality owned utilities company with headquarters in Östersund, Sweden.
For more information, please contact:
Janna Etchells 
Director, Marketing and Communications
Sumitomo SHI FW
E-mail: [email protected]
Mobile: +358 44 239 9471
or
Jaakko Riiali
SVP, Commercial operations
Sumitomo SHI FW
Email: [email protected]