The companies proceed to explore bringing modular, small-scale plastics recycling to the market.
Sumitomo SHI FW (SFW), a global energy technology leader and Recycling Technologies (RT), a chemical recycler of plastic have today announced their collaboration on the development of technology and manufacturing of RT's advanced waste plastic recycling machine, the RT7000.
Image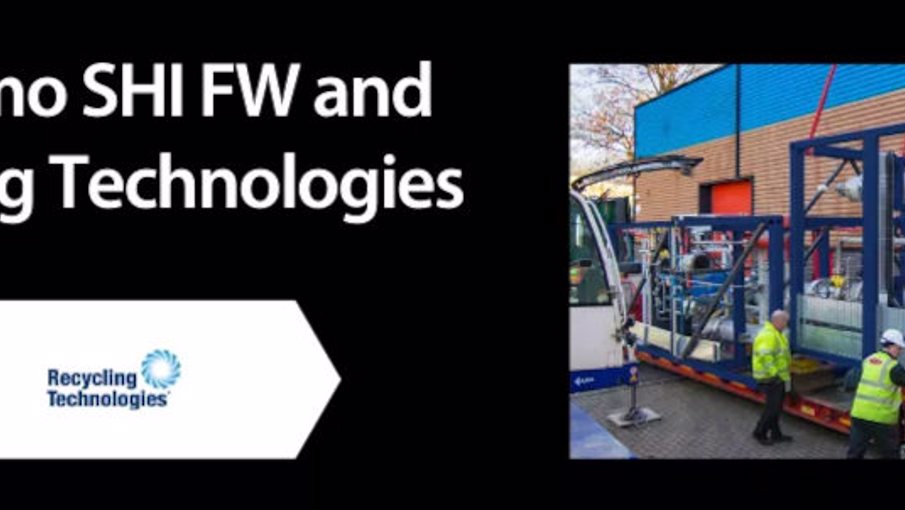 RT's innovative technology, the RT7000, turns hard-to-recycle plastic such as films, bags, laminated plastics into a hydrocarbon feedstock, called Plaxx®, which can be used as a feedstock for new plastic production. The RT7000 is modular and small-scale, designed to fit easily onto existing waste treatment and recycling sites, providing a scalable solution to recycle waste plastic anywhere in the world.
SFW has a long history of delivering complex energy technology solutions and projects across the globe. SFW's energy solutions range from its world leading CFB and gasification technologies to carbon capture, long duration energy storage, and energy from waste technologies. To support the engineering, fabrication, and delivery of energy projects worldwide, SFW has developed a global delivery and manufacturing network, including its own manufacturing workshops in Poland, China, Thailand, and the Nordics that are particularly well suited to fabricating and assembling modular equipment to oil and gas standards. This engineering, fabrication and assembly capability has more recently been brought to bear in the development of a modular Energy from Waste plant that SFW is bringing to market globally.
SFW and RT's collaboration includes the exploration of:
a manufacturing partnership between SFW and RT for the RT7000 that could meet RT's ambition to mass produce about 200 machines per year by 2029.

harnessing the combined engineering expertise of SFW and RT to improve the efficiency and increase the yields of the RT7000, lower its carbon footprint to chemically recycle waste plastic and reduce manufacturing costs harnessing SFW's engineering and manufacturing expertise in fluidized bed technology and modular energy systems.

using SFW's global footprint to assist sales of the RT7000 globally, and

incorporating the RT7000 into SFW's waste to energy plant as an optional value-added alternative to recover waste plastic streams, previously incinerated.
The global plastic production is predicted to increase to one billion tons p.a. by 2050 and we believe that chemical recycling will have an important role in making this more circular. The collaboration with RT supports SFW's strategy to become part of this development and we are looking forward to working with RT on these issues.
Frank Ligthart
Vice President, Strategic Business Development, Waste to Value
This collaboration represents an important milestone in RT's strategy to mass produce our RT7000s, reduce their manufacturing costs, improve their efficiency and expand our global marketing and sales channels. These steps will speed up our goal to make plastic more sustainable through innovation, technology and determination.
Adrian Griffiths
CEO, Recycling Technologies
About Sumitomo SHI FW 
Sumitomo SHI FW (SFW) has been providing innovative energy solutions to our customers for over 100 years. Our mission is to enable the energy transition to a carbon-free future through decarbonization, decentralization and digitalization. 
Our solutions expand from the world-leading circulating fluidized bed (CFB) technology to long-duration energy storage (LDES), energy-from-waste (EfW), waste-to-value(W2V), carbon capture and services for the global power and industrial markets. Through co-creation, partnerships, and ecosystem collaboration, SFW aims to accelerate the speed of decarbonization and create more value for our customers. 
We are global energy experts with more than 1800 talented staff, across multiple locations, covering the globe in North America, Europe, and Asia. 
For more information, please visit: Sumitomo SHI FW (shi-fw.com)
Contact:
Janna Etchells
Head of Marketing and Communications
Sumitomo SHI FW
Phone: +358 442399471
Email: [email protected]
About Recycling Technologies
About Recycling Technologies UK-based Recycling Technologies Ltd is on a mission to accelerate the evolution of plastic into a more sustainable material. Currently, 88% of the plastic used in the world is either buried, burned, or leaked into the environment. This means that the world recycles only 12% of the plastic waste produced each year. Recycling Technologies, a research, engineering, and manufacturing company, has developed innovative technologies to turn hard-to-recycle plastic waste including polystyrene and flexible packaging into feedstocks for new plastic production. Our first commercial product, the RT7000, is modular and small-scale, designed to fit easily onto existing waste treatment and recycling sites, providing a scalable solution to recycle waste plastic anywhere in the world.
For further information, please visit: Recycling Technologies, a modular solution for plastics recycling
Contact:
Simon Eaton
Crofton Communications
Phone: +44 (0)7879617802
Email: [email protected]